12 Days of Christmas at Oh My Soul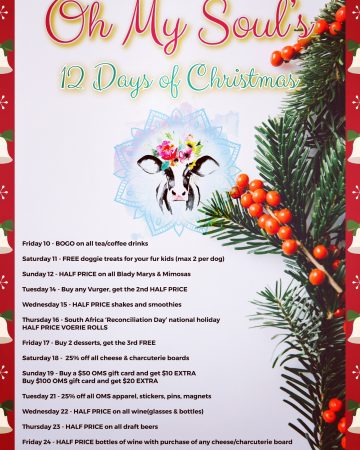 Don't miss our 12 Days of Christmas with specials and offers from Dec 10 – Dec 24.
Friday, December 10: BOGO on all tea/coffee drinks
Saturday, December 11: FREE doggie treats for your fur kids (max 2 per dog)
Sunday, December 12: HALF PRICE on all Blady Marys & Mimosas
Tuesday, December 14: Buy any Vurger, get the 2nd HALF PRICE
Wednesday, December 15: HALF PRICE shakes and smoothies
Thursday, December 16: South Africa 'Reconciliation Day' national holiday HALF PRICE VOERIE ROLLS
Friday, December 17: Buy 2 desserts, get the 3rd FREE
Saturday, December 18: 25% off all cheese & charcuterie boards
Sunday, December 19: Buy a $50 OMS gift card and get $10 EXTRA. Buy $100 OMS gift card and get $20 EXTRA.
Tuesday, December 21: 25% off all OMS apparel, stickers, pins, magnets
Wednesday, December 22: HALF PRICE on all wine (glasses & bottles)
Thursday, December 23: HALF PRICE on all draft beers
Friday, December 24: HALF PRICE bottles of wine with purchase of any cheese/charcuterie board