Oh My Soul

– It's a

VIBE!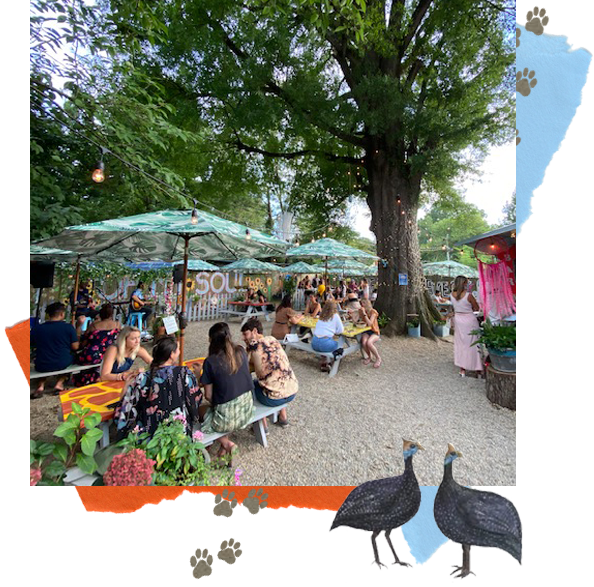 Visit our amazing outdoor patio with a 100 year old oak tree, delicious cruelty free vegan food, craft cocktails, local beer, South African wine, and live music!
Proudly South African, Oh My Soul is an experience like no other. We bring you a "Taste of Africa", a piece of our unique heritage, and the special quality of "Ubuntu", the belief that we are all defined by our compassion and humanity towards others.
Local live music sets the vibe for a casual, relaxed atmosphere to enjoy the outdoors and time with friends.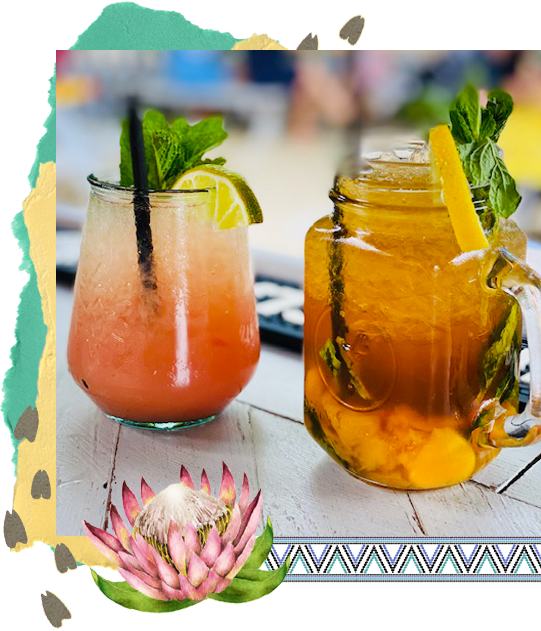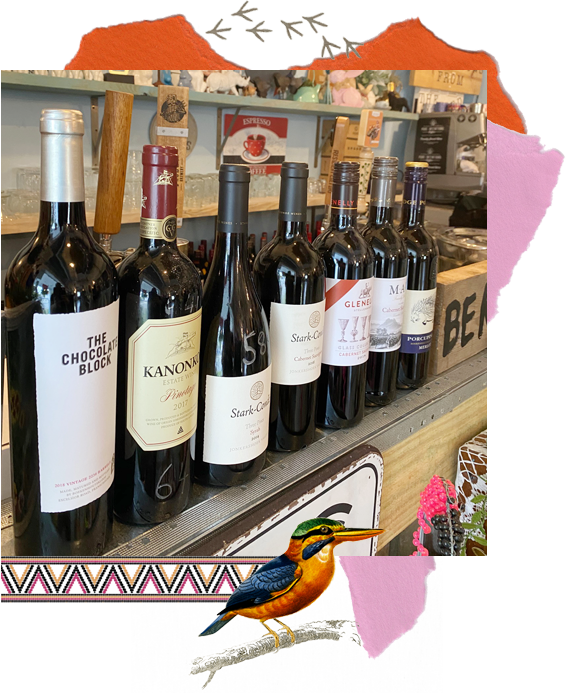 South
African
Wines
From Cape Agulhas to Central Orange, South Africa is the next great region for warm-climate wines with dusty minerality.
The Western Cape's rugged granite hills are over 65 million years old, and vines struggle to dig through these soils to produce dense, mineral-driven wines. Cabernet Sauvignon may be a highlight for South Africa, but you'll discover a love for Chenin Blanc, Syrah and Pinotage too.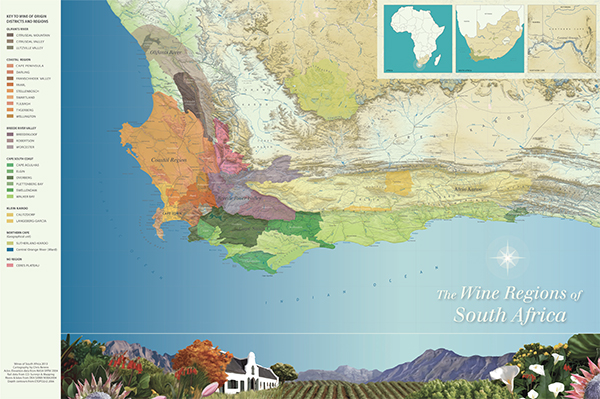 While South Africa, which is about three times the size of the state of California, is considered a New World wine region, it's no newcomer to growing wine grapes.
Grapes were first planted in 1655 and soon after, the sweet wines of Constantia (which is near Cape Town) were lauded all over Europe.
Today, South African wines straddle Old World and New: the wines often smell of ripe, silky fruit, but showcase earthy flavors and finish with restraint. Because of the generally warm climate, South Africa's red grapes in particular get very ripe and produce full, high alcohol wines. But especially in the Western Cape, the cool ocean breezes help the wines retain the bright acidity that keeps things fresh and food-friendly.
Reserve Wines
$55 – Sparkling, MCC Backsberg Estate Cellars, Brut 2018                                             ​
​$65 – Organic Sauvignon Blanc – Reyneke 2016
$60 – Chardonnay-Dewetshof Estate, Lesca 2019-Robertson                      ​
​$60 – Pinot Noir-B Vintners Black Bream 2016-Walker Bay                                              ​
​$70 – Cabernet Sauvignon-Stark-Conde Three Pines 2016-Jonkershoek Valley          ​
​$72 – First XI Range, The Centurion 2016-Stellenbosch                                           ​
​$80 – Pinotage- Kanonkop Wine Estate 2018-Stellenbosch                       ​
​$100 – Bordeaux Blend-Kanonkop Wine  Estate, Paul Sauer 2016-Stellenbosch 
Sparkling

Methode Cap Classique
$12/$45 Sauvignon Blanc-Steenberg N/V-Constantia 

White

Chardonnay
$30 Mont Rochelle Estate 2019 – Franschhoek
$12/$33 Spier, True to Terroir 2019 – Cape Town

Steen/Chenin Blanc
$11/$30 Spier, Million Trees 2019 – Western Cape
$33 De Kleine Wijn Koöp – Buffelsfontein 2020 – Franschhoek

Sauvignon Blanc
$12/$30 De Kleine Wijn Koöp, White Squirrel 2020 – Franschhoek
$33 Prohibition White NV – Stellenbosch

Interesting Whites
$30 Chenin Blanc, Viognier – Noble Hill, 'Bloem' 2018 – Western Cape
$13/$35 Bukettraube – Cederberg 2019 – Citrusdal Mountain
Rose
$30 Shiraz/Mouvedre/Grenache –De Kleine Wijn Koop​ – Klipers Rose 2020- Franschhoek   
$12/$33 Pinotage-Backsberg Estate Cellars Rose-Paarl 
$33 Clarington Rosé 2020 – Clarington Rose 2020-Cinsault-Stellenbosch 
Red
Cabernet Sauvignon
$11/$30 Camberley Wine Estate, Prohibition – N/V – Stellenbosch
$13/$36 Noble Hill 2015 – Simonsberg/Paarl
$38 De Kleine Wijn Koöp, Heimwee 2019 – Stellenbosch

Pinotage
$30 De Kleine Wijn Koöp, Buffelsfontein 2019 – Franschhoek
$13/$36 Camberley Wine Estate, Illusion N/V – Stellenbosch

Pinot Noir
$36 Stark-Condé, Kara-Tara 2018 – Elgin
$14/ $40 De Kleine Wijn Koöp, Hoendertande 2019 – Walker Bay
Interesting Reds
$11/$30 Merlot, Mourvedre, Petit Verdot, Cabernet Sauvignon – Mont Rochelle, Little Rouge – Franschhoek
$33 Cinsault – De Kleine Wijn Koöp, Ou Treffer 2019 – Stellenbosch
$36 Shiraz – Backsberg Estate Cellars, Pumphouse Shiraz 2018 – Paarl
$38 Grenache Noir – De Kleine Wijn Koöp – Hoendertande 2019 – Franschhoek

For After
$12 Muscat – Boplaas, Hanepoort N/V – Calitzdorp
$12 Caperitif Kaapse Dief – Badenhorst, Swartland
Port
$12 Quinta Do Noval Fine Ruby Port
$14 Quinta Do Noval 10yr Tawny Port
Madeira
$10 Broadbent Rainwater N/V
$12 Broadbent Sercial 10yr N/V
$12 Broadbent Verdelho 10yr N/V
$12 Broadbent Boal 10yr N/V
$12 Broadbent Malmsey 10yr N/V
Beer
'Local is Lekker'! At Oh My Soul you will find a great selection of Noda, Charlotte and NC beers, ciders and kombuchas in bottles, cans and drafts.
Spirits
Oh My Soul has a full bar with a strong focus on local North Carolina craft spirits and cocktails as well as some unique South African offerings.
Vodka
Titos Vodka
Social House Vodka (NC Craft)
Gin
Hendricks
Tanqueray
Sutlers Small Batch (NC Craft)
Conniption Navy Strength Gin (NC Craft)
Bourbon
Jim Beam Black
Four Roses Yellow Label
Four Roses Small Batch
Woodford Reserve
Basil Hayden
Russel's Reserve
Rye
Bulleit Rye
Whiskey
Jack Daniels Black Label
Skrewball Peanut Butter Whiskey
Crown Royal
Jameson Irish Whiskey
Johnny Walker Black Label
Rua American Single Malt (NC Craft)
Mcallan 12 YR
Proper Twelve Irish Whiskey
Tequila
Lunazul Reposado
Lunazul Anejo
El Jimador Silver Tequila
Patron Silver
Patron XO
Don Julio
Milagro
Avion 44 Reserve
Don Julio 1942
Mezcal
Montelobos
Rum
Goslings Black Seal
Capt. Morgan Spiced 70
Muddy River coconut (NC Craft)
Muddy River Basil (NC Craft)
Muddy River Silver (NC Craft)
Muddy River Spiced (NC Craft)
Queen Charlottes Reserve 4 YR (NC Craft)
Ron Zacapa Rum 23 YR

Liqueur
Dekuyper Triple Sec
Dekuyper Crème Dementhe
Dekuyper Blue Curaco
Dekuyper Crème de Cacao-Dark
Arrow Creme De Banana
Baileys Almande
Frangelico
Disaronno
Grand Marnier Cordon Rouge
Green Chartreuse
Pimms No 1
Digestif
Jagermeister
Jagermeister Cold Brew

Cognac
Hennessy Very Special

Aperitif/Amaro
Cappelletti
Caperitif (SA Craft)
Contratto Vermouth Rosso
Dolin Dry Vermouth
Cardamaro Amaro
Pasubio Amaro

Calvados
Christian Drouin
Oh My Soul
Classics
DILF Espresso Martini
$14
Asheville coffee liqueur, almonde Baileys, fresh brewed espresso, creme de cacao liqueur
A special blend of 3 rums and tropical juices, luxardo, absinthe, fresh squeezed lime, Topped with flaming citrus and cinnamon
Passoa passion fruit liqueur, Tito's vodka, passion fruit puree, vanilla, fresh squeezed lime, w/ a passion fruit on top
Oh My Soul Fashioned 🇿🇦
$14
Woodford reserve bourbon, rooibos tea extract, cane syrup, angostora bitters, rooibos tea leaf smoked glass
Plantation dark rum, Tito's vodka, fresh squeezed lime, ginger beer, house-made ginger syrup
Yebo GoGo 🇿🇦

$14
Kraken spiced rum, Muddy river coconut rum, creme de banana liqueur, pineapple juice, orange slice & maraschino cherry
Silver tequila, organic guava juice, fresh squeezed lime, mint
Rotating
Seasonal
1792 small-batch bourbon, midnight moon peach moonshine, house-made peach syrup, fresh-picked mint, fresh squeezed lemon, mint sprig from our own garden
Caravelle limoncello, Galliano L'Autentico, Uncle Vals Botanical gin, house-made dandelion root syrup, fresh squeezed lemon,dl dehydrated flowers from our own garden
Dr. Stoners fresh herb vodka, yuzu fruit puree w/ mint, pineapple, and GT cannabliss CBD kombucha, melon liqueur, house-made sage syrup, fresh squeezed lime, fresh picked pineapple mint garnish
Heard It Through The Grapevine
$14
Del maguey Vida mezcal, moletto grappa di barbera, house-made rosemary syrup, Grapefruit juice, Grapefruit bitters, fresh squeezed lime
Murto made banana fosters run, tuaca, Frangelico, fresh squeezed lemon, Polynesian kiss bitters, dehydrated banana garnish
Cathead honeysuckle vodka, Chambord, lychee puree, rosewater, fresh squeezed lime, lychee skewer, rose petals
High
Rollers
($24 - Limited Quantities)
SelvaRey chocolate rum, Mr. Black coffee liqueur, coconut milk, house-made chocolate sauce, cocoa powder dipped luxardo cherries
Woodford reserve double oaked bourbon, kirk & Sweeny 12yr Reserva rum, flor de Cana rum, house-made pinotage vermouth, Woodford reserve bitters, luxardo cherry spear
Bumbu caribbean rum, tres agaves Anejo tequila, house-made pineapple date syrup, fresh squeezed lime, served inside a real pineapple with flowers, mint, & cherries
Regmakers
(Regular Brunch Cocktails - Saturdays until 2pm, and all day Sunday.)
Frangelico hazelnut liqueur, social house vodka, amaretto liqueur, fresh-brewed espresso, caramel syrup, oat milk, topped with coconut whipped cream and a cherry
Choice of juice – orange, pineapple, guava, cranberry, grapefruit, apple cider
DILF Espresso Martini
$14
Asheville coffee liqueur, almonde Baileys, fresh brewed espresso, creme de cacao liqueur
A special blend of 3 rums and tropical juices, luxardo, absinthe, fresh squeezed lime, Topped with flaming citrus and cinnamon
Oh My Soul Fashioned 🇿🇦
$14
Woodford reserve bourbon, rooibos tea extract, cane syrup, angostora bitters, rooibos tea leaf smoked glass
Elderflower liqueur, Domaine de canton ginger liqueur, apple cider, Canada
Plantation dark rum, Tito's vodka, fresh squeezed lime, ginger beer, house-made ginger syrup
Yebo GoGo 🇿🇦

$14
Kraken spiced rum, Muddy river coconut rum, creme de banana liqueur, pineapple juice, orange slice & maraschino cherry
Silver tequila, organic guava juice, fresh squeezed lime, mint
Blady Mary 🇿🇦

🌶️
$14
Social house vodka, house-made peri-peri sauce, tomato-based blady mary mix, celery bitters, celery stalk, house-made vegan bacon, olive, pepperchini, torched jalapeño, lemon & lime